Chief editor
Editor-in-Chief of «The Bryansk State University Herald».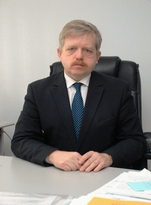 Mikhalchenko Sergey Ivanovich-Doctor of Historical Sciences, Professor, Academician I.G. Petrovskii Bryansk State University, Russia.
Director of the Center for Slavic Studies of the University. Full member of the Archaeographic Commission of the Russian Academy of Sciences. Author of over 350 scientific papers, including 9 monographs. He has repeatedly received grants from the Russian Foundation for Humanities and the Russian Foundation for Basic Research for scientific research. With the direct participation of S.I. Mikhalchenko, important international forums were organized at Bryansk State University — the interstate scientific conference «Russian heritage in the countries of Eastern and Central Europe» (2010), two sessions of the Symposium on the agrarian history of Eastern Europe (2012 and 2018). .), as well as annual international conferences «Western region of Russia in international relations of the X-XX centuries.» with the participation of scientists from Russia, Belarus, Ukraine, Poland. Honorary Worker of Higher Professional Education of the Russian Federation.